Timbaland & Swizz Beatz to Face Off in Memorial Day Weekend 'Verzuz' Rematch Battle
It's about to go down! This Memorial Day weekend, Verzuz co-creators Timbaland and Swizz Beatz will show off their producing skills as they face off in a battle once again for their hit web series.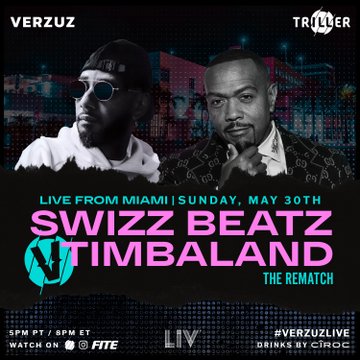 The pair first dueled onstage in 2018 at the Hot 97 Summer Jam in East Rutherford, N.J., as part of a producer clash battle — long before Verzuz premiered virtually in 2020 amid the COVID-19 pandemic.
In a post shared on the official Verzuz Instagram Tuesday (May 25), the showdown was announced. "Did y'all guess who the rematch was going to be!? @THEREALSWIZZZ vs @TIMBALAND THIS SUNDAY ‼️ LIVE from @LIVMIAMI  Celebrating Memorial Day Weekend with our new #VERZUZLive ."
Beatz, né Kasseem Dean, 42, commented the post, "Let's go then ." Timbaland, born Timothy Mosley, 49, wrote, "Alrite [sic] now ."
With Timbaland's extensive history of producing megahits for fan-favorites including JAY-Z, Lenny Kravitz, Missy Elliott, Kanye West, Aaliyah, Cher and Madonna, Beatz — who has produced for Eve, Diddy, Lil' Wayne, The Weeknd, Drake, the late DMX, among many more — is in for a tough rematch.
Since its inception, Verzuz has featured friendly competitions between Monica and Brandy, Gladys Knight and Patti LaBelle, Erykah Badu and Jill Scott, Alicia Keys and John Legend, and the late DMX, who faced off against Snoop Dogg in July. DMX, né Earl Simmons, died on April 9.
Tune in on Sunday (May 30) at 8 p.m. ET to catch the Verzuz battle between Timbaland and Swizz Beatz, streaming on Instagram Live via the VerzuzTV account or Triller. It will also air on TV via FITE.